Center for Coronary Artery Disease
Professional Resources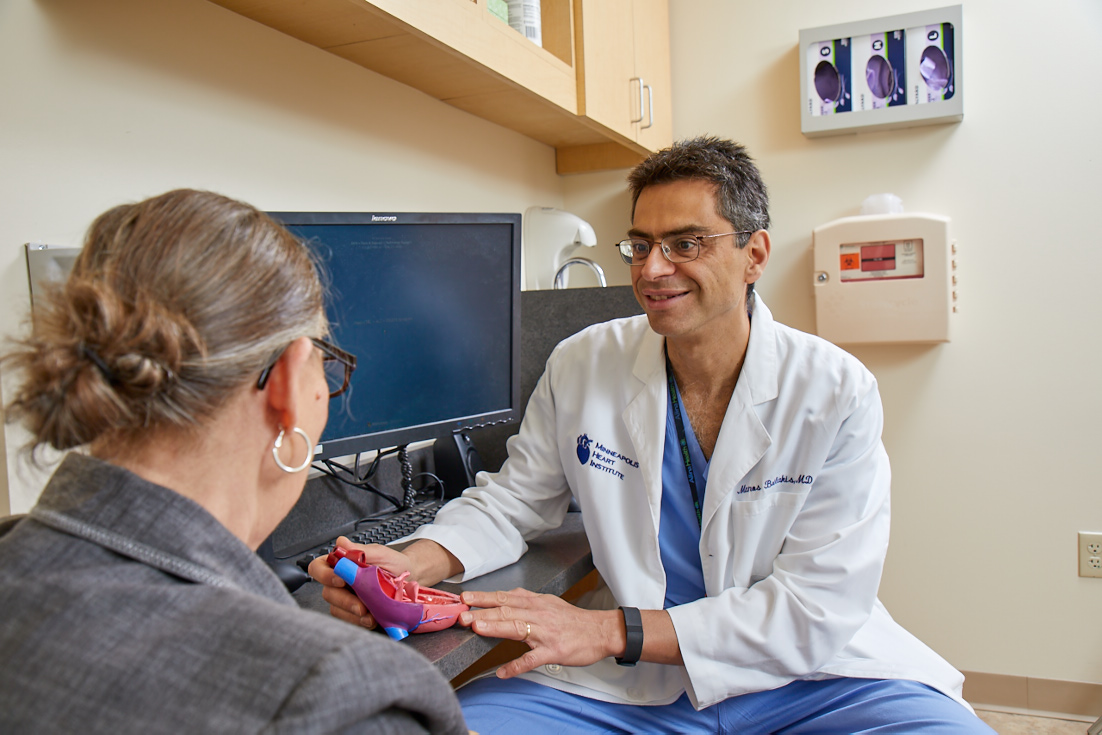 The Center for Coronary Artery Disease is strongly positioned for success through:
A partnership with 70+ Minneapolis Heart Institute® cardiologists, who see more than 50,000 individual patients at more than 60,000 clinic visits each year at Abbott Northwestern and United Hospitals.
An exceptionally large and diverse patient experience, complete with data contained within the electronic medical record as part of Allina Health.
A proven track record of dissemination, publishing 63 journal articles (including peer-reviewed) in 2019, along with 25 poster presentations and 48 invited presentations at 22 meetings (15 in the U.S. and 7 internationally.
Frank J. and Eleanor Maslowski Charitable Trust Complex High Risk Indicated Percutaneous Coronary Interventions (CHIP) and Chronic Total Occlusion (CTO) Fellowship
As part of the educational aim for the Center for Coronary Artery Disease, a one-year fellowship in has been created to provide a robust experience to an individual interested in training in complex percutaneous coronary interventions and interventional cardiology research. More information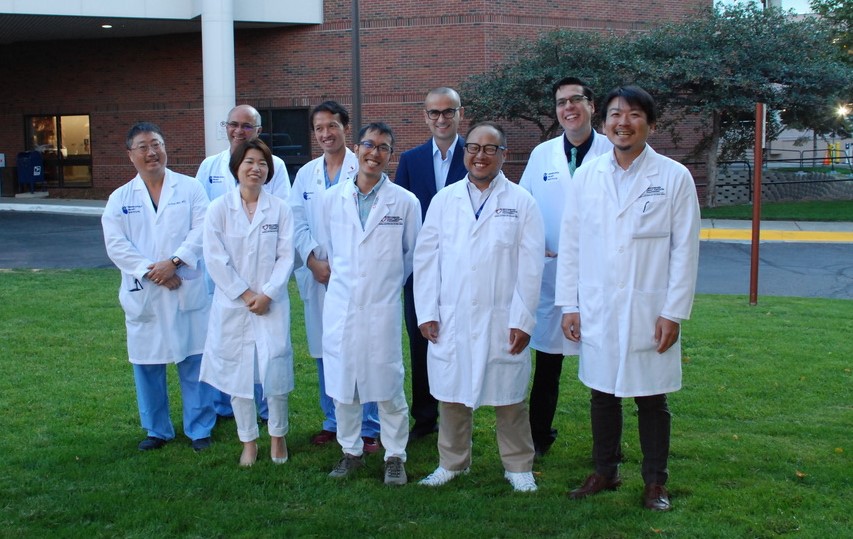 Our CCAD Research
We are making the impossible possible through innovative research and education around treatment approaches for coronary artery disease cases. Check out our research and resources below.
A searchable database of complex CTO cases. Resources compiled by faculty at the Center for Coronary Artery Disease.

Learn More >
A searchable case library of non-CTO coronary interventions compiled by faculty at the Center for Coronary Artery Disease.

Learn More >
PROGRESS-CTO is an ongoing contemporary, multi-center global registry of more than 7,000 CTO-PCIs at 50 participating centers, with a goal to provide novel insights into the most complex type of CTO-PCIs through rigorous study of techniques and outcomes across a varied group of operators and medical practices.
Approximately 20% (1 in 5) coronary artery lesions involves a branching point (bifurcation). Recanalizing bifurcation lesions can be challenging because the branching artery may become obstructed or completely occluded during the procedure. The recently launched PROGRESS-Bifurcation registry will provide novel insights on the current state and future directions on coronary bifurcation interventions.
This is a randomized prospective trial that will compare Radial artery access to state-of-the-art Femoral artery access for Cardiac Catheterization and PCI procedures. The objective of this trial is to help determine the optimal method for obtaining arterial access in various clinical settings and improve patient outcomes.
CCAD Presentations Map
We are proud to share research and education with peers around the world. Take a look where we've presented our research below!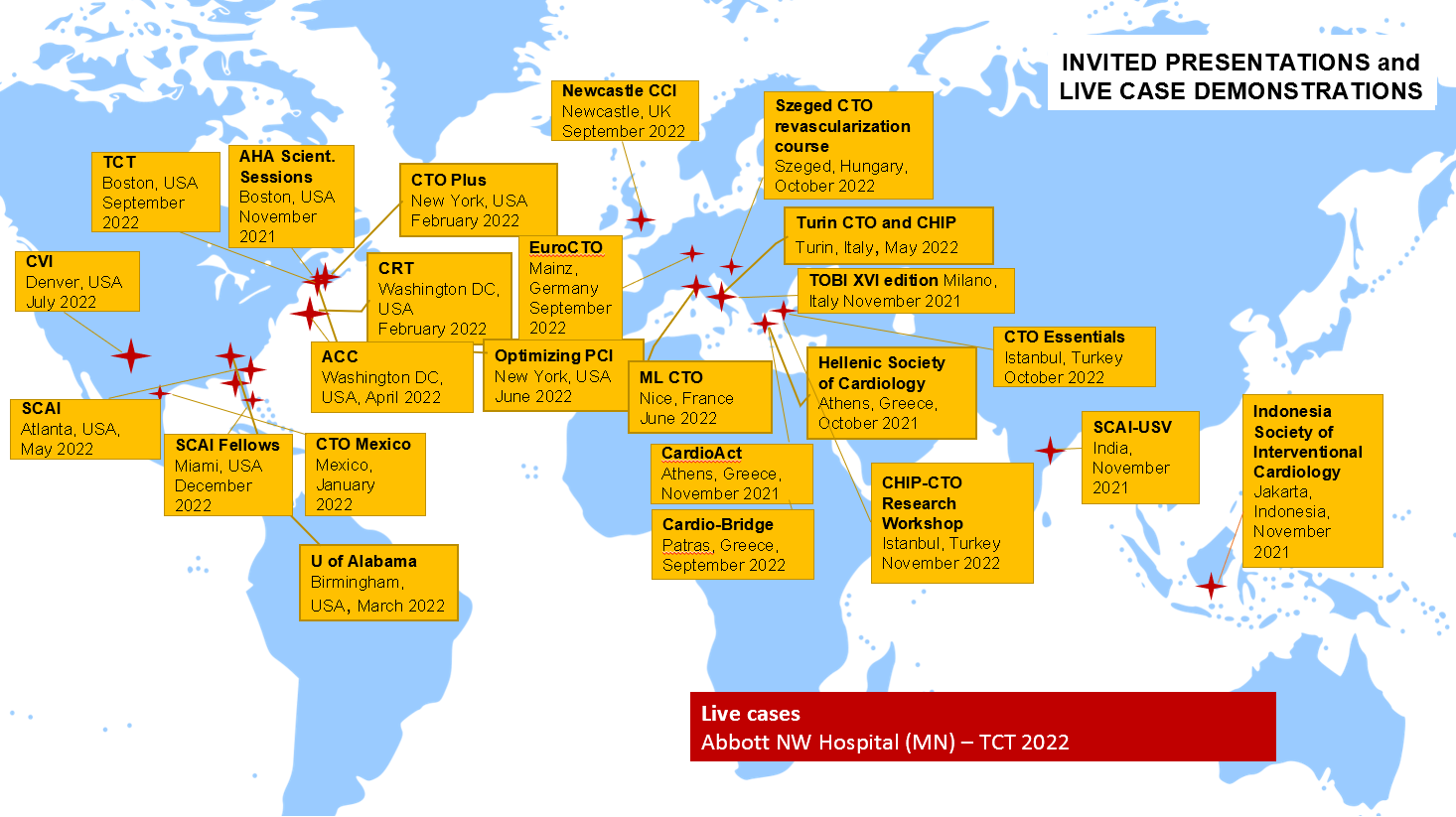 MHIF's CCAD team has authored hundreds of papers and presents frequently at national and international conferences. Read some of the latest publications from our team by clicking here.
Read more publications on PubMed based on authors:  
Watch recordings or view slides from past lectures on coronary artery disease and related topics. 
December 2022: Implementation of High-Sensitivity Cardiac Troponin T: The Time is Now by Yader Sandoval, MD, FACC, FSCAI (Recording)
May 2022: Invasive coronary angiogram (ICA) vs. computed tomography angiogram (CTA) in diagnosing coronary artery disease (CAD) by Tarek Chami, MD (Recording)
May 10, 2021: Spring Conference Showcase (Recording)
Treatment patterns and outcomes of bifurcation lesions: First results from the Prospective Global Registry for the Study of Bifurcation Lesions Interventions (PROGRESS-BIFURCATION) by Ilias Nikolakopoulos, MD
Chronic total occlusion percutaneous coronary intervention during COVID-19 pandemic: Insights from the PROGRESS-CTO registry by Evangelia Vemmou, MD
November 23, 2020: CT imaging of coronary artery plaque: Substrate-based approach to coronary artery disease by Victor Cheng, MD; (Slides) (Recording)
November 9, 2020: AHA Preview
Contemporary In-Hospital Outcomes of Chronic Total Occlusion Interventions: Update from the PROGRESS-CTO Multicenter International Registry and Outcomes of Patients with ST Elevation Myocardial Infarction and History of Prior Coronary Artery Bypass Graft Surgery by Judit Karacsonyi, MD, PhD, Research Fellow, Minneapolis Heart Institute Foundation®; (Slides) (Recording)
Radial Versus Femoral Access For Coronary Procedures In Patients With Prior Coronary Artery Bypass Grafting Surgery: An Updated Study-level Meta-analysis by Ilias Nikolakopoulos, MD, Research Fellow, Minneapolis Heart Institute Foundation®; (Slides) (Recording)
May 11, 2020: Complete Revascularization in Patients with Multi-Vessel Coronary Artery Disease: Is the Story COMPLETE? by Mohamed A Omer, MD, MSc, Interventional Cardiology Fellow, Minneapolis Heart Institute® at Abbott Northwestern Hospital; (Slides) (Recording)
October 14, 2019: Engaging MHIF Research: Structural Heart, Electrophysiology and Complex Coronary Artery Disease – Current CCAD Studies by Emmanouil S. Brilakis, MD, PhD, Director, Center for Complex Coronary Artery Disease; (Slides) (Recording)
April 15, 2019: Update on Chronic Total Occlusion (CTO) Percutaneous Coronary Intervention by Emmanouil S. Brilakis, MD, PhD, Director, Center for Complex Coronary Artery Disease; (Slides) (Recording)