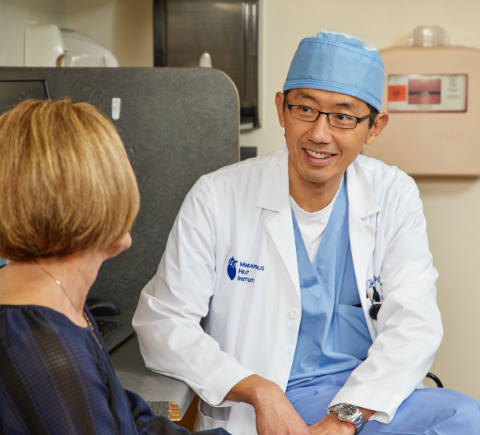 Tireless Heart Research is Saving Lives
The study of heart disease has come a long way since we opened our doors in 1982 with a mission to improve the cardiovascular health of individuals and communities through innovative research and education. The collaboration between tireless research, international education, and local clinical practice is the engine that continues to drive results. 
Every year, research is helping us make discoveries that save, extend, and enrich lives. 
Our Research Participants Are Our Heroes
Participating in a cardiovascular research study means you are making a significant contribution to finding and treating your condition – for yourself and others well into the future. Patients today are receiving life-changing treatment from research studies that occurred in the recent past. We rely on – and are grateful for – the participation of patients who help advance the field of cardiology and save lives.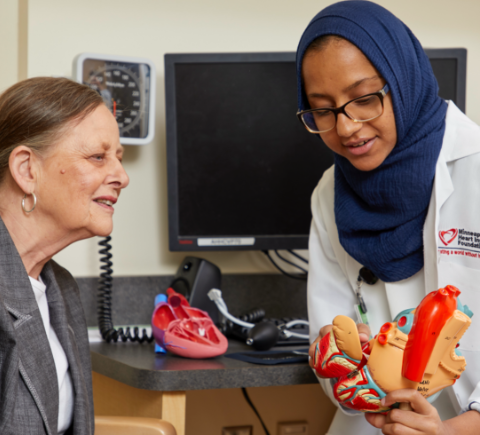 "There was just never a question in my mind. Why wouldn't I participate in research? I want to do something to help...I'm at a stage in life where I'm looking to contribute in any way I can. I agreed wholeheartedly to participate." 
- Kevin Manion
"I just decided I'm going to take the short-term risk for the long-term gain and it was just a great experience. Dr. Santiago Garcia and his team were just fantastic. I can't say enough good things about them. I mean, their skill. They care about you. They are passionate about what they do." 
- George Dean
Meet Kristen
Kristen had a heart attack at 29 years old and was diagnosed with spontaneous coronary artery disease (SCAD). She is a mom, patient, SCAD survivor, and tireless advocate for the importance of research. 
Research is the reason why Hope is Discovered Here. It offers hope in the form of new treatment options, which in some cases is the only option for a life-threatening heart condition. In other cases, hope is discovered in a study that confirms the real benefit of a new therapy, or one that confirms the value of important preventive steps.
Meet R.T.
Former Minneapolis mayor R.T. Rybak was cross country skiing when he felt like he had an ice pack on his heart. The heart attack led him to the clinical team at Minneapolis Heart Institute® and they were experienced in treating this type of patient. 
How Research Made the Difference:
"When my father was my age, he had a heart attack. I had a heart attack too. I lived and he died and the research that occurred in the decades between them is the difference." 
Innovative research led to progressive ways to treat heart attack patients. Because of that, RT Rybak is a heart attack survivor. In partnership with the world-renowned physicians at Minneapolis Heart Institute, our research team members bring a depth of experience from diverse clinical and academic backgrounds. We have state-of-the-art facilities and a diverse patient population.
 
What are the Benefits of Participating in a Cardiovascular Research Study?
Participating in a study makes a significant contribution to discovering new and better ways to treat your condition - for yourself and countless more lives in the future.
Get Regular Attention
Study participants receive regular appointments with world-class clinical research experts and ongoing monitoring throughout the study. Ask your doctor about active MHIF studies that match your treatment needs.
Help Others and Yourself
Study participants can take comfort knowing that the study could aid others with the same condition. Some also may gain access to early innovative technologies (depending on the study). 
We Strive to Make Your Involvement in Research as Meaningful as Possible. 
40 years of experience in research matters: 

Every year we conduct over 200 studies featuring thousands of patients that address prevention, detection, diagnostic techniques, and treatment.

The outcomes of that research could bring exciting breakthroughs and new discoveries. When they do, we offer more than 10,000 hours of professional education every year, resulting in physicians using our findings all over the globe. 

Our experience and passion are unparalleled. In partnership with the world-renowned physicians at Minneapolis Heart Institute®, our research team brings a depth of experience from diverse clinical and academic backgrounds.

92 million Americans have some form of cardiovascular disease and countless others are affected when their loved ones suffer. Research participants play a vital role in helping us advance our mission of a world without cardiovascular disease..      
Image
Take Your Next Step
Is getting involved in research right for you? Contact us (612-863-3980) for a conversation or talk to your healthcare provider.