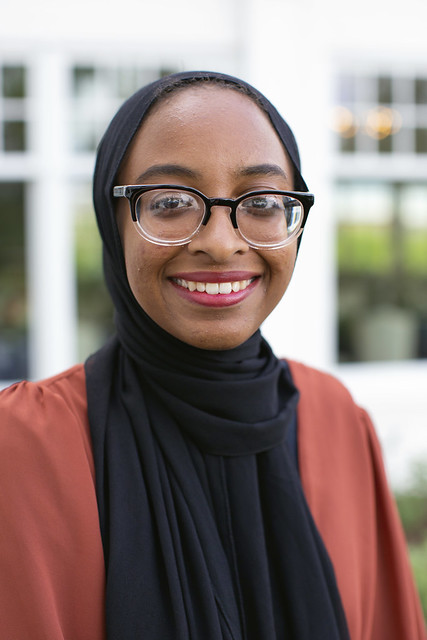 Shahd Mohamed
Morrison Intern
Hometown: Orlando, FL
Education: University of Central Florida (Orlando, FL)
MD Mentor: Jay Sengupta
Staff Mentor: Jake Cohen
Project: Characterizing Novel Cardiac MRI Criteria for the Diagnosis and Prognosis of Arrhythmogenic Right Ventricular Cardiomyopathy
Shahd Mohamed, from Orlando, Florida recently graduated with a bachelor's degree in biomedical sciences from the University of Central Florida.  Currently taking her gap year, Shahd is excited to join the MHIF research internship team.  Shahd hopes to one day become an M.D., where she can combine her passion for learning science and medical coursework with teaching in a way that can serve members of the community. Her greatest source of inspiration "has come from observing the dedication and empathy of doctors I've had the opportunity to shadow and learn from."  
Shahd chose a research internship through MHIF because of the vast array of experiences made available including case conferences, clinician shadowing, observing open-heart surgery, numerous meaningful field trips, lunch and learns and being exposed to the research and clinical environments.  Shahd also looks forward to working on clinical research and preparing a poster presentation.  In addition to learning more about cardiology, Shahd hopes to improve her scientific writing and investigative skills.   
This summer, Shahd will be mentored by Dr. Jay Sengupta and staff member Jake Cohen as they contribute to the study: Characterizing Novel Cardiac MRI Criteria for the Diagnosis and Prognosis of Arrhythmogenic Right Ventricular Cardiomyopathy.  This research project strives to study characteristics of cardiac Magnetic Resonance Imaging (MRI) that may help define left ventricular involvement in disease progression, and guide clinicians towards appropriate therapeutic strategies, including implantable cardioverter-defibrillator implantation.  
After this summer Shahd plans to continue participating in clinical research in addition to taking the MCAT with intentions on applying for medical school.  This internship has greatly increased Shahd's interest in clinical research and the field of cardiology.  Being that she is from Florida, Shahd has been pleasantly surprised by the overall friendliness of Minnesotans and enjoys the scenic drives to and from MHIF in which she passes over the Mississippi River.