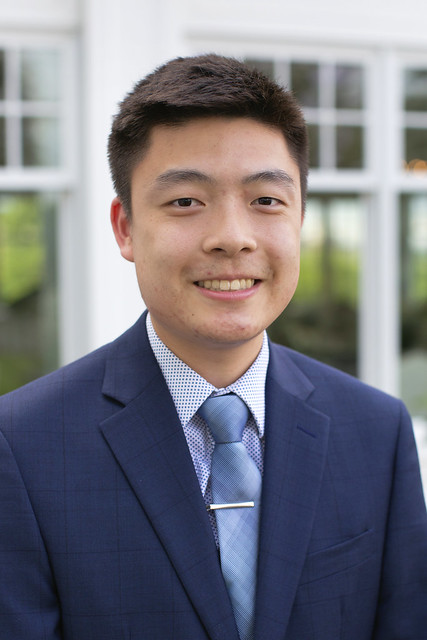 Matt Wang
Sheldon Z. Wert Intern
Hometown: Pittsford, NY
Education: Johns Hopkins University (Baltimore, MD)
MD Mentor: Joao Cavalcante
Staff Mentor: Sara Olson
Project: Role of Cardiac Magnetic Resonance Imaging in Patients with Aortic Stenosis
Matthew Wang is currently a junior at Johns Hopkins University.  Matthew is from Pittsford, New York, and hopes to one day become a cardiologist.  The reason he chose to pursue a career in medicine is because, "at its core, medicine is more nuanced than simply treating a patient; it's truly about restoring one's quality of life and giving their loved ones peace of mind."  Matthew wants to positively impact the ever-evolving role that medical interventions play in the lives of the general population.    
This summer, Matthew is intrigued by the opportunities to contribute to a clinical research project, observe cardiovascular procedures, shadow cardiologists, collaborate with fellow interns and gain exposure to experienced research staff and physicians at MHIF.  Matthew hopes to walk away from this experience with a better understanding of the clinical research and medical practice environment. 
Throughout his internship, Matthew will be adding to the study: Role of Cardiac Magnetic Resonance Imaging in Patients with Aortic Stenosis.  Under the guidance of Dr. João Cavalcante and staff member Sara Olson, the team hopes to understand how quantification of various clinical parameters using specified imaging techniques may help identify patients at risk for adverse events and thereby optimize timing of clinical interventions for patients with aortic stenosis (AS).  Aortic stenosis occurs when the aortic valve opening narrows, and in turn restricts the blood flow from the left ventricle to the aorta. 
After this summer internship, Matthew will return to Johns Hopkins University for his junior year.  This experience has enhanced his interest in becoming a physician, specifically specializing in cardiology.