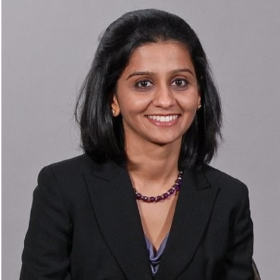 Bavana V. Rangan, BDS, MPH
Program Director, Center for Coronary Artery Disease
Dr. Rangan joined the MHIF team as program director for the Center for Coronary Artery Disease (CCAD) in October 2018. Dr. Rangan focuses on expanding and enabling the vision of the CCAD Science Center developing MHIF's investigator-initiated research portfolio of studies and funding, and mentoring the CCAD international scholars. Dr. Rangan is also the global director for the PROGRESS-CTO global multi-center registry on chronic total occlusions, which is a significant and expansive endeavor involving more than 50 participating centers globally, and includes >7000 CTO PCI procedures. Also, as a program director, Dr. Rangan serves on the MHIF Blueprint leadership group dedicated to enabling MHIF's growth and strategies.
Dr. Rangan is originally from Bangalore, India, and received her dental degree at the Rajiv Gandhi University of Health Sciences, VS Dental College and Hospital. Drawn by the opportunity to pursue a career in clinical research, she completed her Master of Public Health in Clinical Research at the University of North Texas Health Science Center, School of Public Health. Subsequently, Dr. Rangan built a strong background in clinical research in dentistry, rheumatology and cardiology primarily within the VA North Texas Health Care System (VANTCHS) and University of Texas Southwestern (UTSW)Medical School. She began working with Dr. Emmanouil Brilakis in 2007 at UTSW and VANTHCS in progressive roles including director of research operations and faculty associate, leading to principal investigator on the LAVA registry and national coordinator on several trials, including the VA CSP#571 Drug-Eluting Stents in Saphenous Vein Graft Angioplasty (DIVA) trial, the Crossboss First Trial, ASAP-SVG Trial, among other projects, funded by VA, NIH, industry and philanthropy.  Dr. Rangan's research expertise has been in saphenous vein graft disease, chronic total occlusions, intravascular imaging and investigational drug and device trials.
Dr. Rangan has also served as a board member and reviewer on the VA North Texas Health Care System Institutional Review Board between 2012 to 2018 and received the VA's Outstanding Cardiology Research Achievement Award in 2013. She is well published and has been recognized as a leader in research administration and implementation.