Global Health & Outreach
International Cardiac Outreach Research & Education Program
Global heart disease prevention and treatment for impoverished children.
Heart Disease in Africa: Making a Real Impact
Image
Tanzania: Based on our successful 10-year partnership in cardiac care training and research in Ethiopia, MHIF Global Outreach expanded its work to Tanzania in 2020. We are supporting our partner Kilimanjaro Medical Center (KCMC) in Moshi, Tanzania, which serves a population of 15 million inhabitants of northern Tanzania to build and support a cardiac care program. We are supporting four KCMC critical care nurses with advanced critical care training, and plans to train cardiologists and surgeons are underway. With funding provided by MHIF Global Outreach, our colleagues at KCMC are conducting research to determine the prevalence of RHD in northern Tanzania. 
Ethiopia: The Rheumatic Heart Disease (RHD) Training Center was established in September 2019 in Addis Ababa. This center is a collaboration between the University of Addis Ababa and the Ethiopian Ministry of Health. The RHD Training Center is on track to become the leading resource in training, education and research for rheumatic heart disease across Africa. The center recently awarded funding for two RHD research studies in Addis Ababa.
MHIF Global Outreach: Ethiopia
Image
Millions of children in developing countries have heart disease but there is little treatment available. For many, their heart disease could have been prevented.
We collaborate with partners to train cardiac care teams in developing countries to treat heart disease. Our efforts enable health professionals to provide long-term, sustainable care for patients.
Our Goal is to Improve Care and Prevent Heart Disease Globally for Hundreds of Thousands of Impoverished Children and Young Adults.
Africa has the highest prevalence of congenital and rheumatic heart disease – both conditions can have devastating effects on children and young adults when not detected early or treated properly. 
One in every 120 children born worldwide has congenital heart disease. In the U.S. and other developed countries children are diagnosed early and receive treatment. However, in the developing world, including Africa, children do not have access to appropriate care.
Rheumatic heart disease is caused by untreated streptococcal throat infections which progress into acute rheumatic fever and ultimately rheumatic heart disease. Untreated rheumatic heart disease can lead to heart valve damage, stroke, arrhythmias, heart failure and death. It is the most common cardiovascular disease in children and young adults globally, affecting nearly 33 million people and causing more than 500,000 deaths.
The drugs and technology needed for successful programs have been used in developed countries for over 50 years, yet they remain inaccessible to many of the poorest in developing countries. These statistics highlight the importance of training health professionals to prevent, diagnose and treat rheumatic heart and congenital heart disease. 
| | | |
| --- | --- | --- |
| Image | Image | Image |
| Image | Image | Image |
The Only Way to Drive Impact for More than 1 Million Children with Heart Disease Across Africa is to Partner with Local Health Care Providers in Cardiac Care and Treatment. Through those Partnerships, We've Successfully:
Image
Trained Ethiopia's first cardiac surgery team – a multi-disciplinary team of 12 surgeons, cardiologists, anesthesiologists, perfusionists and nurses. The team is now operating independently at the Cardiac Center in Addis Ababa. They have already saved and improved the lives of hundreds of children and young adults.
Supported the development of a pilot rheumatic heart disease prevention program in Ethiopia, designed by a team of Ethiopian physicians across the country, in collaboration with the Federal Ministry of Health.
Raised the visibility of heart disease in children in Ethiopia. The Rheumatic Heart Disease Prevention program catalyzed the development of national rheumatic heart disease guidelines, the integration of rheumatic heart disease into primary care treatment protocols, and recognition of rheumatic heart disease in the Ministry of Health's five-year strategic plan.
Created a strong foundation for future work. We will be expanding our training and education in Ethiopia and replicating this program in Tanzania.
Image
Our Story
Dr. Vibhu R. Kshettry founded the international cardiac outreach, research and education program that has become the MHIF Global Outreach Program. As a cardiac surgeon at Minneapolis Heart Institute®, Dr. Kshettry performed volunteer heart surgeries in the developing world for more than 25 years. Dr. Kshettry's efforts are focused on ensuring that these cardiac treatment programs will be long-term and sustainable.
In 2010, he began a long-term partnership in Ethiopia to train Ethiopian doctors, nurses, and technicians to be cardiac specialists. The program was a success, and we are now expanding it to additional sites in Ethiopia and Tanzania.
"This has been a personal calling for me since childhood.  Give life to others, care for others, care for your family. More importantly, care for strangers. To the world you may be one person, to the one person, you may be the world."
– Dr. Vibhu R. Kshettry, Cardiac Surgeon, MHIF Global Outreach Medical Director
Questions? Reach out to us.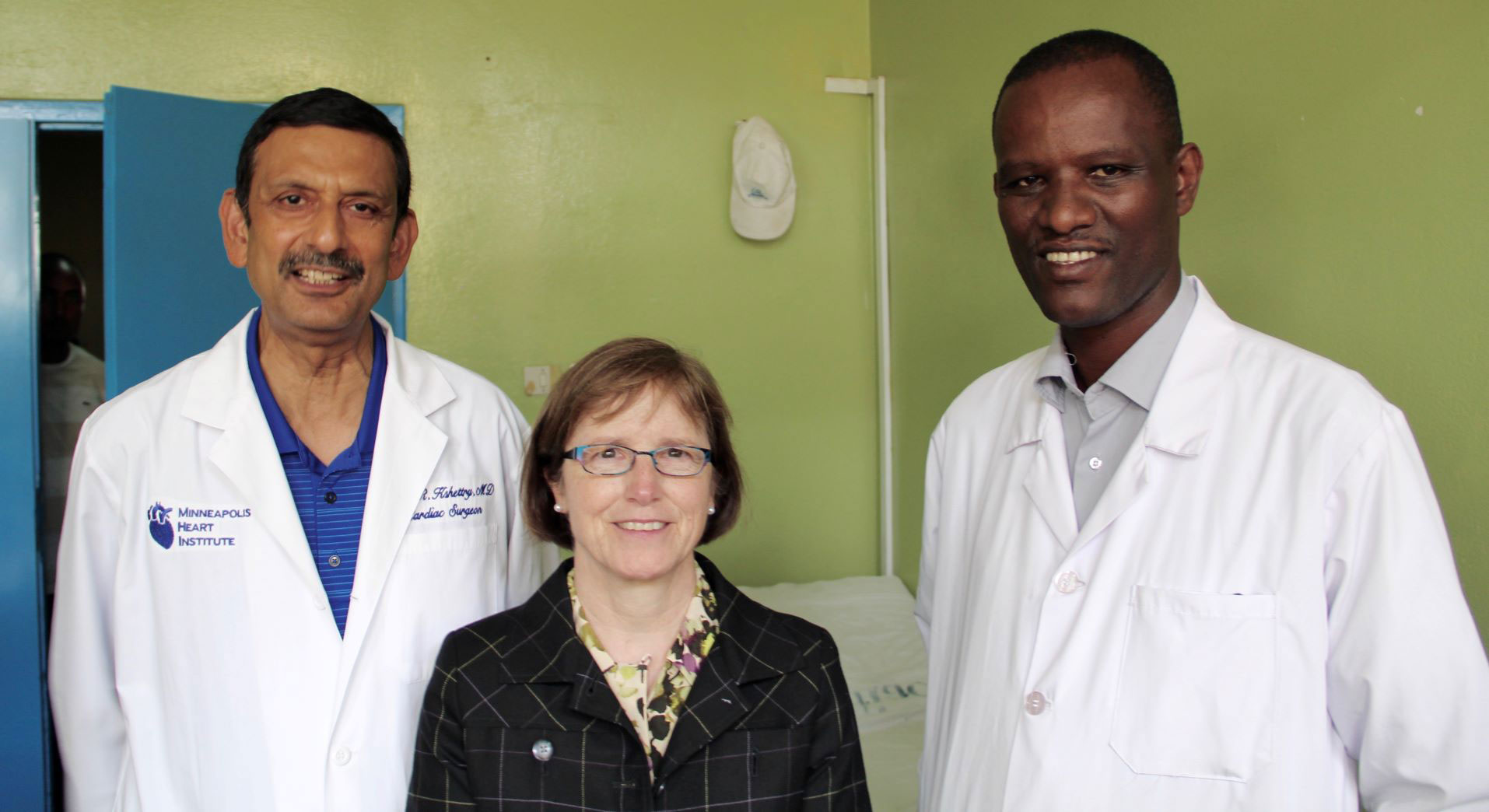 Make a Life-Changing Donation
Any Gift, Big or Small, has a Significant Impact on People's Lives