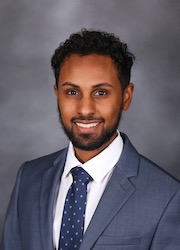 Abdul Gamam, MD
Cardiovascular Prevention Fellow
Dr. Abdul Gamam has been selected to serve as MHIF's cardiovascular prevention fellow for 2022-2023 in the Nolan Family Center for Cardiovascular Health.
Dr. Gamam completed his three-year residency in internal medicine in June 2022 at Hennepin County Medical Center. While there, he served as a member of the Internal Medicine Diversity Committee with the mission of social justice through providing innovative strategies on trauma informed care and increasing racial diversity. He received both his medical degree and his Bachelor of Science degree in biochemistry from the University of Minnesota. Dr. Gamam has previous research experience at both the University of MN, as well as Harvard Medical School.
As an MHIF cardiovascular prevention research fellow, Dr. Gamam will spend approximately 80 percent of his time conducting prevention research and 20 percent in clinical practice over the next year.